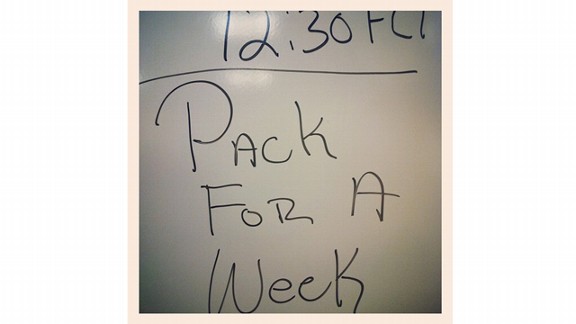 During the 2009-2010 season, Celtics coach Doc Rivers collected $100 from the entire team and staff after losing a regular season game to the Lakers in Los Angeles. He took the money, rolled it up, and then stuck it into one of the ceiling panels in the visitor's locker room at the Staples Center.
The message? If you want your money back, you will have to advance to the NBA Finals. That Celtics team got the message and their money back (before losing in Game 7 to the Lakers).
The picture above was Rivers' message to his team last night after their 98-79 loss to the Heat in Game 6 of the Eastern Conference Finals. After being torn apart by a virtuoso performance from LeBron James (45 points, 15 rebounds, 5 assists), the Celtics knew they had to travel to Miami for a winner take all Game 7.
Rivers wanted them to think about not only flying to Miami for Game 7 but also about winning in Miami. The thing is, if the Celtics win tomorrow night, they will start the NBA Finals on Tuesday night in Oklahoma City and they would not be returning to Boston for Game 3 until Friday, June 15.
Yes, that is a week from today.
Yes, Rivers believes - and more importantly, wants his team to believe - that they will be winning tomorrow night against the Heat and then will be flying directly to Oklahoma City to start the NBA Finals.
Yes, I agree with Rivers and believe the Celtics will find a way to pull out a win in Game 7.